Some things may shriek male style – oversized leather sofas, black bed linen, coffee tables overloaded with video games and collections of beer mats – but there are all sorts of ways to style up a bachelor pad, man cave or fella's flat, and ensure it's more 'designer cool' than 'macho mistake'.
Choose from one of these four décor types, so you can match your home to your personality…
1. Regular guy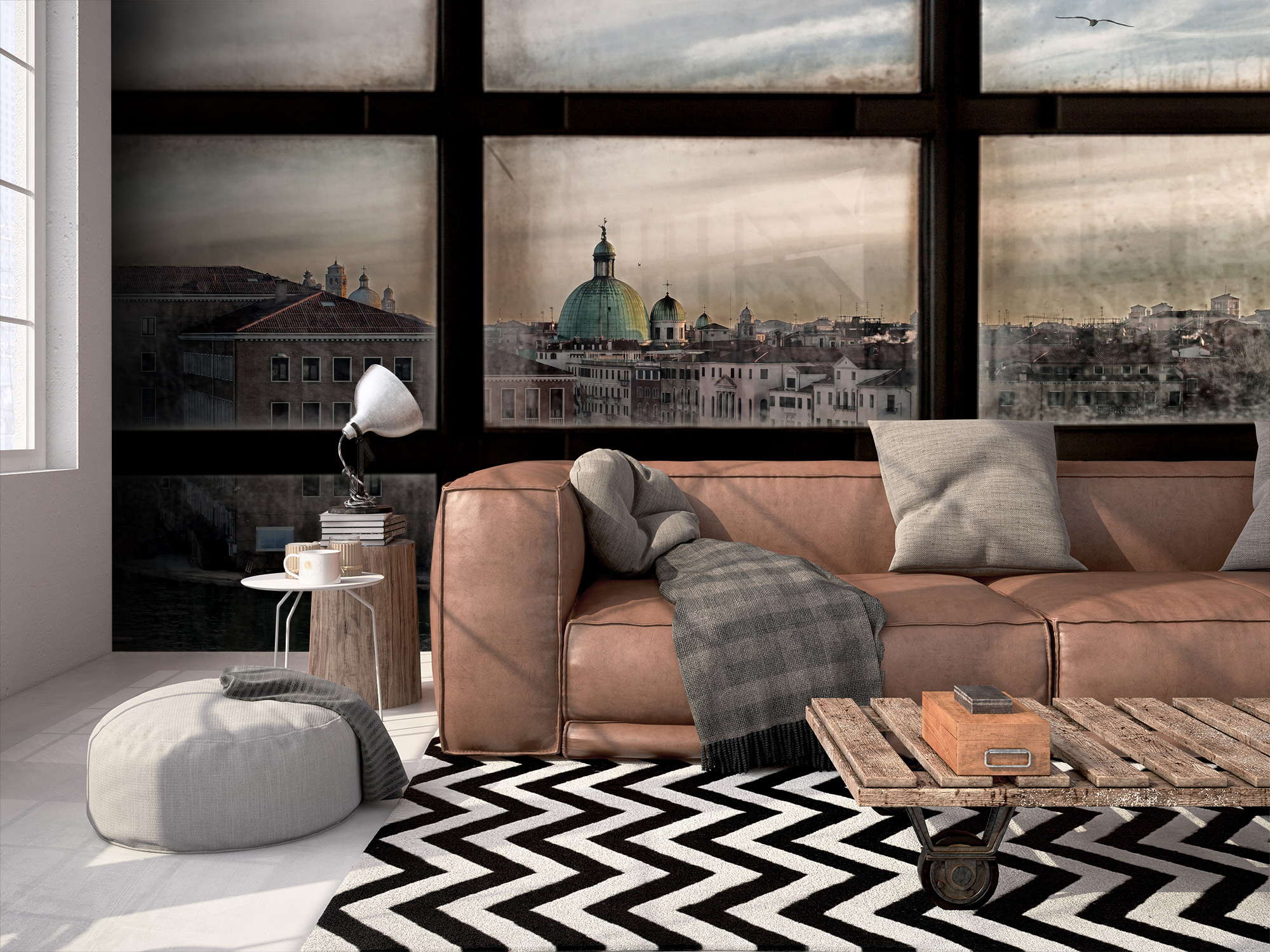 Steady, loyal and reliable by nature, he likes decor to match – practical, comfortable and low-maintenance. Think traditional-style and leather sofas, sturdy coffee tables, and lots of brown and black (doesn't show the dirt!).
"Men's spaces needn't be boring these days, especially if they incorporate good design and embrace a cohesive look by sticking to natural materials and neutral shades," says Emma Brindley, group interior design manager, Redrow Homes.
"An oversized sofa – curves give a softer look – can be the ultimate statement piece. Add warmth and comfort with knitted throws, and show off your style credentials by reflecting this year's geometric trend in patterned cushions, and a rug in monochrome tones or colour. Add more personality by creating a gallery wall of favourite movie posters or sporting icons."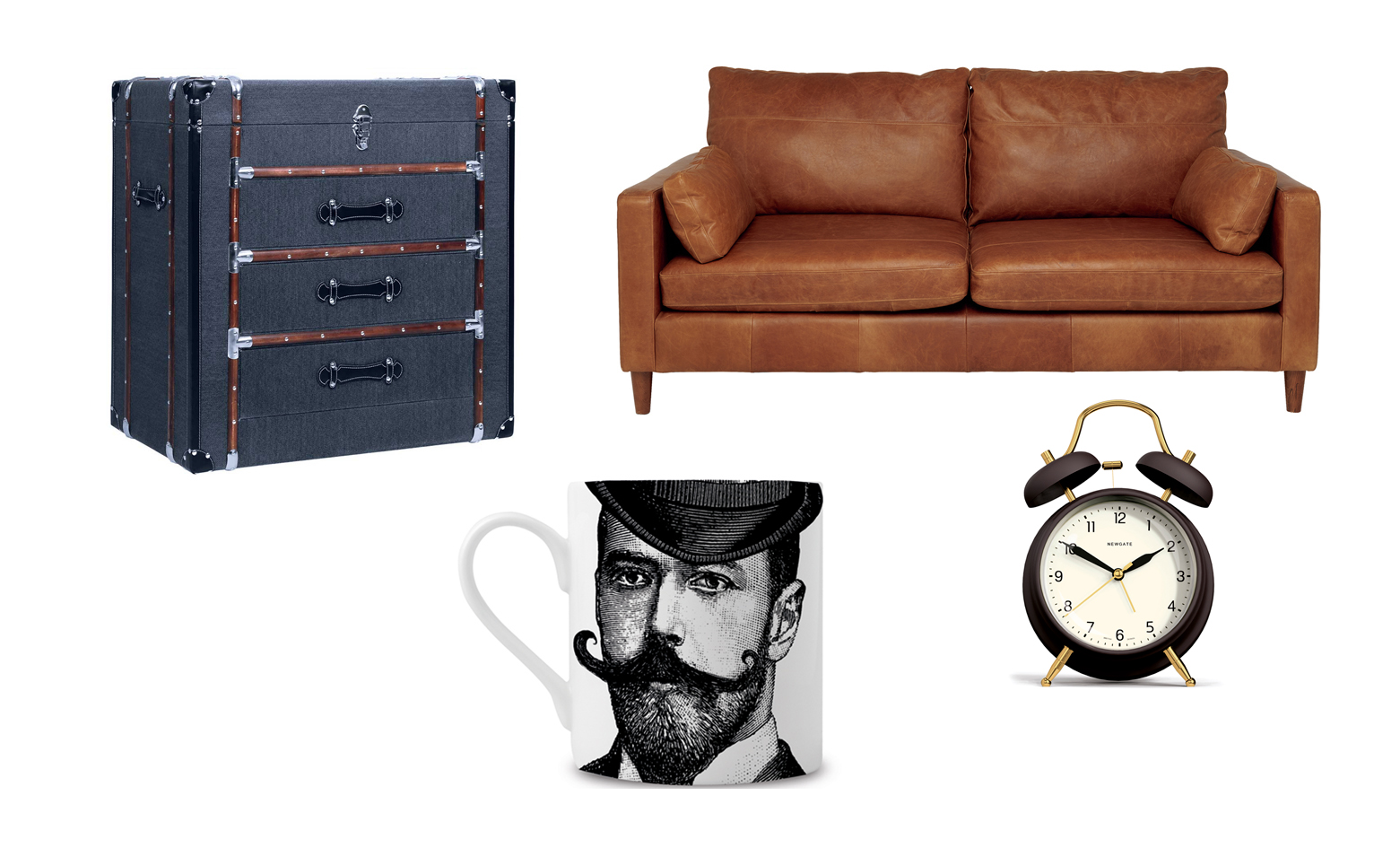 Get the look: Murals can transform a room, and Wallsauce's super selection includes a range of Venice scenes (see above), from £25 per square metre. A leather sofa's a must, and Marks & Spencer's Hendrix medium sofa in Stowe tan leather, £2,099, is a winner, as is pib's Saint Paul Chesterfield Sofa, £2,530, reduced from £2,810 (top image).
Storage is key and a traveller trunk-style Colonia Chest of Drawers, £412.50, Hutsly, is roomy and handsome. He'd love: The Brass Knocker Alarm Clock in matte chocolate black, £25, Cotswold Trading, and a Dashing Gent Fine China Mug, £15, Chase and Wonder.
2. The entertainer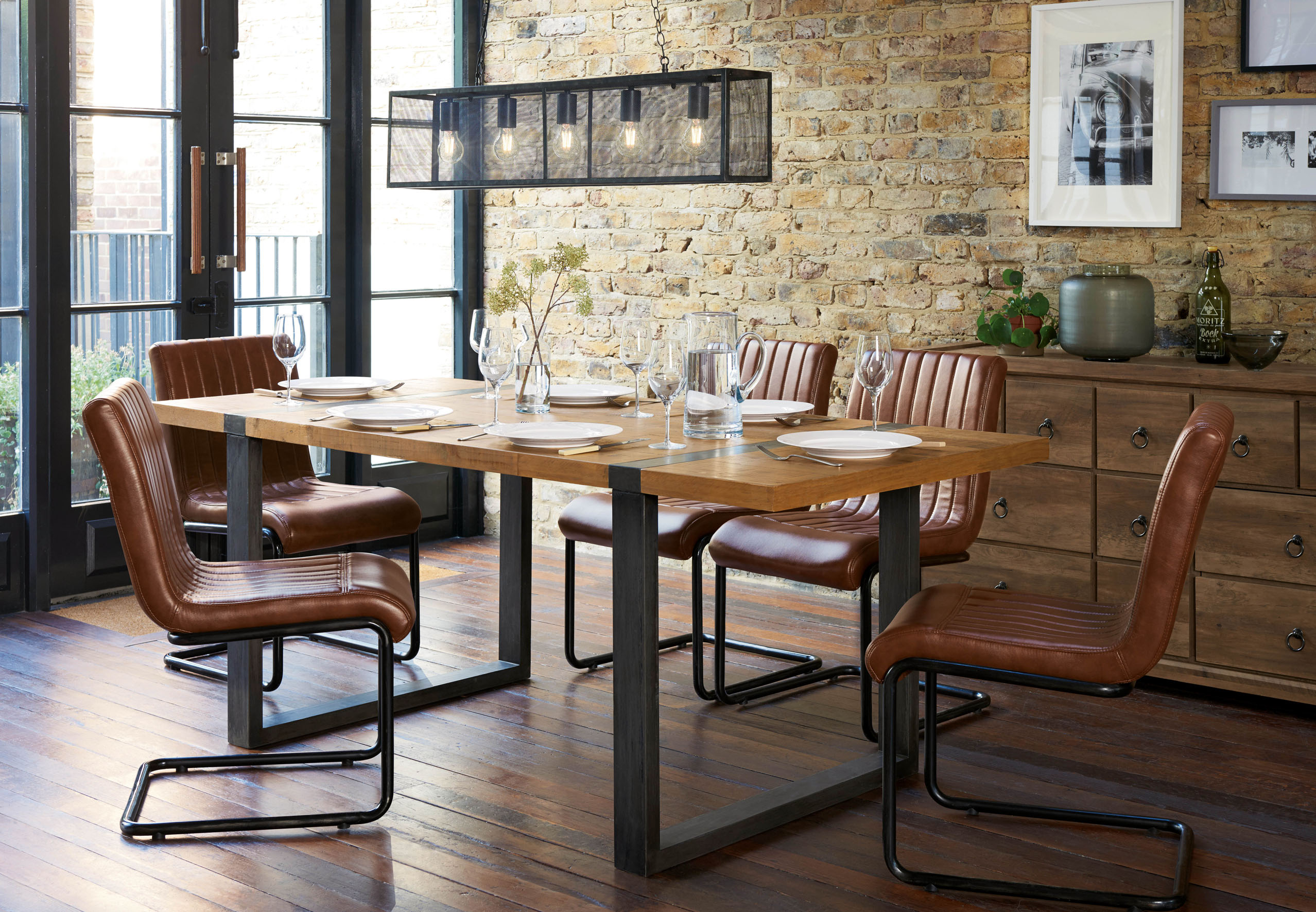 It's all about parties and socialising for him and his 'open house' policy means there's always someone calling in for drinks, so a well-furnished dining/kitchen area is essential.
"Country style chic is a big trend this year – with white washed or pastel toned rooms, solid wood floors and furniture, and aged leather furnishings in vintage tan leather," says Leanne Dixon, head of product for chair specialists, HSL.
"It's all about understated style for men's rooms, where the look doesn't overpower and is versatile to suit any occasions without fuss or frills. Bachelor spaces are often multifunctional, so furniture should be sleek and stylish.
"For a colour palette to please both sexes in a shared space, take on the trend for deep, moody greens and blues."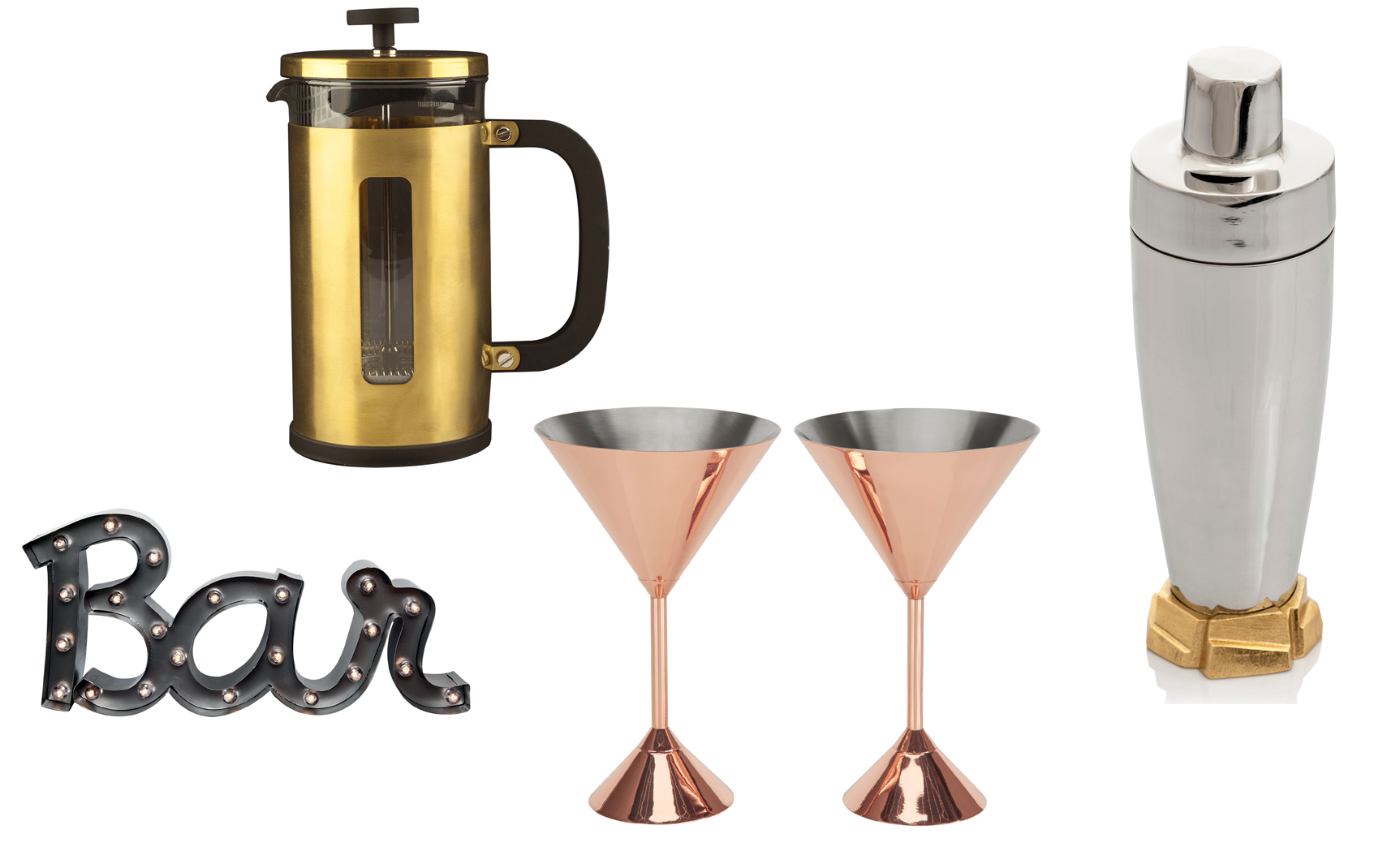 Get the look: Next combines slick design and quality in its homeware ranges; their Hudson Fixed 8 Seater Dining Table, £499, is one of its stars, and pairs strikingly with their faux tan leather Bernie Dining Chairs, £275 a pair. Throw light on the area with a Mesh 5 Light Linear Pendant, £130.
Word signs are all the rage – spell it out with a Metal 'Bar' Light Up Sign, £34.99, Festive Lights. He'd love: A La Cafetiere Brushed Gold Cafetiere, £34.95, Miafleur. Plunder Amara for designer bargains: Tom Dixon Plum Copper Martini Glass, £80 for set of two, and a hand-made Michael Aram Rock Cocktail Shaker, £82.
3. Brand man
This guy loves his designer labels; everything in his wardrobe and home shows off his taste and is chosen with care. A fan of Pinterest and Instagram, he's always one click away from his favourite designer furniture outlets.
"There's an increasingly design-literate male audience, who are looking for product aesthetics as well as functionality and performance, from technology to the home," says Naomi Shedden, senior trend analyst at Trend Bible.
"Interior design is becoming a more democratic process, where a balance has to be achieved between the preferences of all family members. We're seeing a move towards simpler, cleaner and more modern trends as a result, but balance is key.
"The trend for a grey palette is a classic sign of this move towards a more masculine look, which can be softened through accessories and lighting. We're even seeing a move towards including softer shades like pink, to create a balance of warm and cool tones. Adding industrial details will ensure a setting doesn't look ultra-feminine or overly-decorative."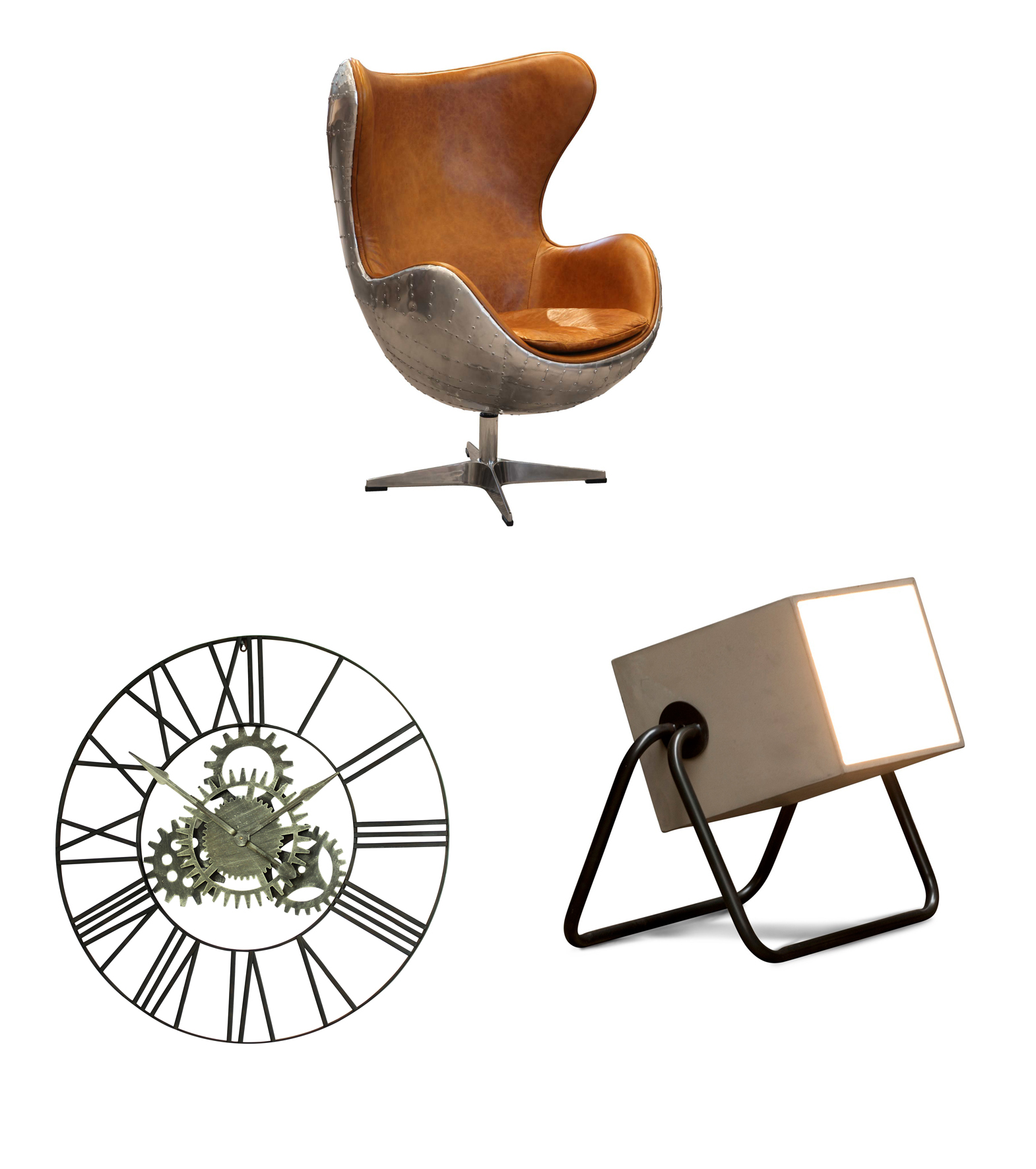 Get the look: This Reclaimed Willys Jeep Desk, £1,440, Smithers of Stamford, was originally used by the Americans in World War II and would tick all his boxes, especially as it has two working headlights. Follow the transport theme with an Aviator Keeler Wing Desk Chair, £1,375, Modish Living. He'd love: Concrete Box Lighting, £139, Pib Home, and a Silver Cog Skeleton Wall Clock, £92.95, (available June 23) Windsor Browne.
4. Game boy
He's fun, with that essential GSOH, and adventurous – so he'll experiment with his décor. As long as it has personality, colour and boyish charm, he's happy. Bright, primary colours, pop art posters and fun collections of toys from his childhood or memorabilia are key ingredients in this interiors recipe.
"Men have, stereotypically, always had a set area of the home which they can call and style their own way; the shed down the bottom the garden being a classic example. However, in the last 10 years, the man pad has become less masculine in its tone," Mark Turner, of interiors brand We Love Cushions, says.
"Cool designer gadgets and softer furnishings have made for a more relaxing – as well as practical – space. When it comes to sharing a home, a retro vibe can be perfect for both men and women – archival collections and vintage poster designs in light and bright hues add a visual twist to a neutral palette, with textures being key to a softer feel.
"A man's bedroom is a personal space which can be a real reflection of his taste. There's room for playful, witty touches, such as posters or displays of photographs."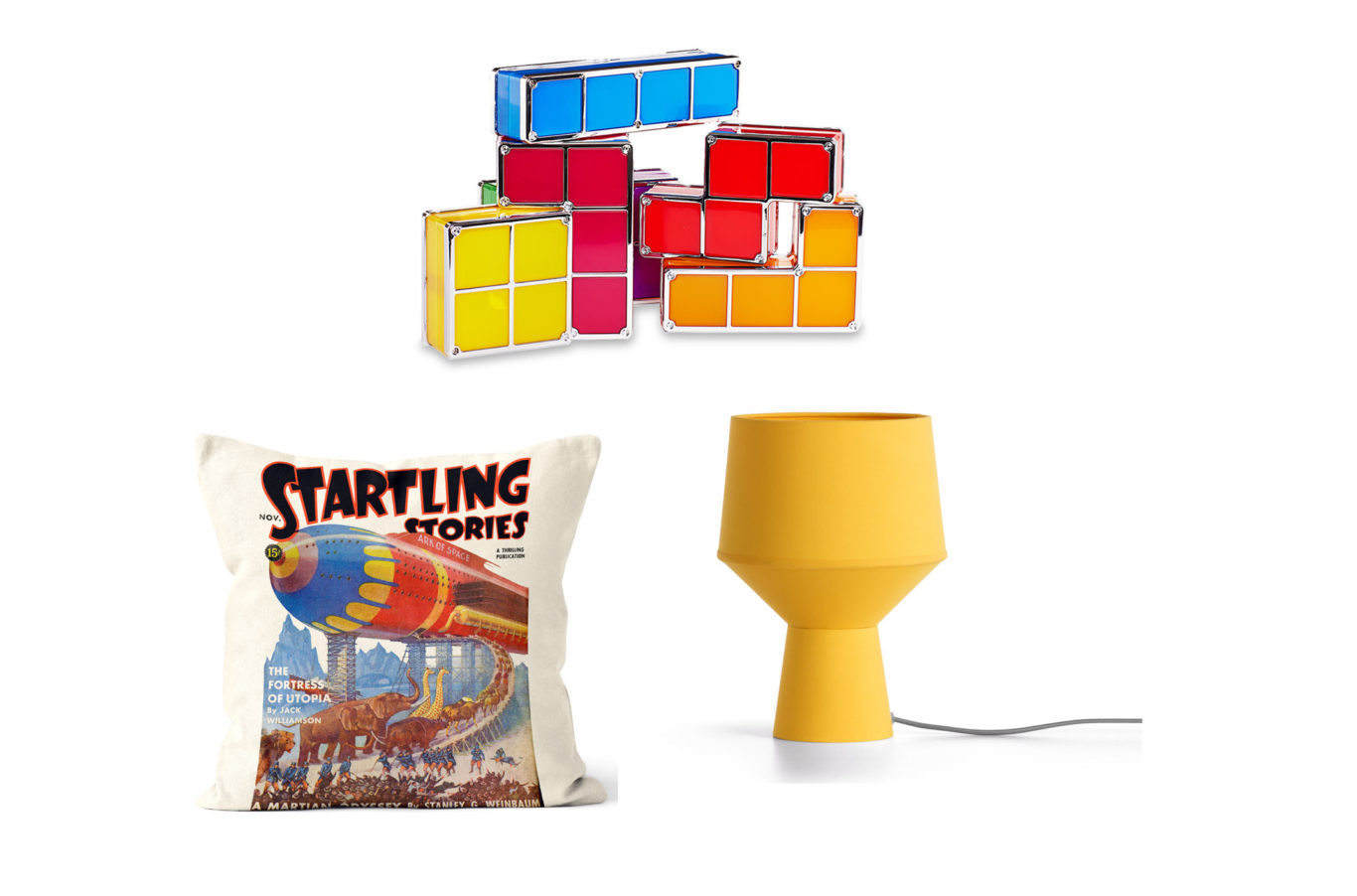 Get the look: Turn attention to the wall with Pop Art Dream Romance mural wallpaper, from £25 per square metre, Wallsauce, which should appeal to his sense of humour. He'd love: Tetris Light, £20, where the lights change shape as it's moved, George Home; a Tuli Table Lamp, £25, Made, and a Startling Stories of the Stars Pulp Fiction Cushion, £34.99, We Love Cushions.