Heidi Klum appeared on the CFDA Awards red carpet in a stunningly glamorous white gown by New York Fashion Week star Zac Posen, accessorising her dress with the designer himself.
Clearly, the supermodel can pull off the luxury look, but her latest fashion collaboration is of the distinctly more budget variety.
It's just been revealed that the 44-year-old has designed a collection for discount supermarket Lidl, where clothing prices are rarely above the £10 mark.
Commenting on the 'high-end yet affordable' range, Heidi said: "Lidl is known for making quality products at affordable prices and I'm proud to partner with them on this fashion collaboration. I had so much fun designing the pieces in this collection and can't wait for you to see it. I hope you love it as much as I do!"
Of course, this isn't the first time a stylish celeb has worked with a budget retailer. H&M is famous for its designer collections, which see fans queuing round the block to get their hands on pieces by the likes of Balmain and Alexander Wang at high street prices. More recently, Victoria Beckham launched a collection with American retailer Target – like our own beloved 'Primarni', US fashion fans call it 'Tar-jay' – so no doubt Lidl will be hoping to follow in their fashionable footsteps.
Klum is no stranger to the design studio either. She's designed swimwear, maternity and activewear ranges in the past, and two years ago launched her namesake lingerie brand, Heidi Klum Intimates.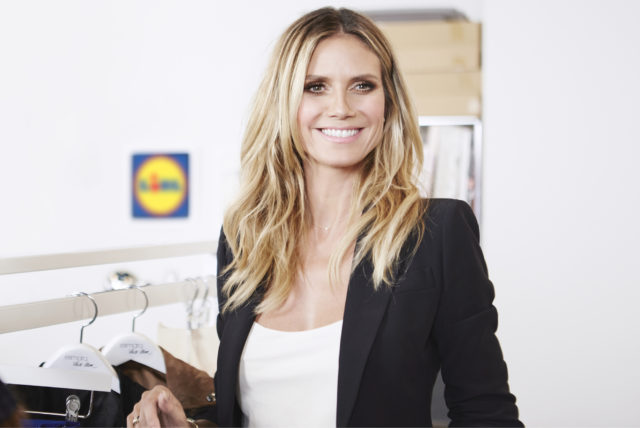 What will the Lidl collection look like? Images haven't been revealed yet, but in the promotional photo of Heidi next to a clothing rail there's a glimpse of what looks like a brown suede jacket, alongside some royal blue, black and cream pieces. The supermarket has said the clothes will be reflective of the German model's 'characteristic style'.
Ryan McDonnell, Lidl UK's Commercial Director, said: "As both a global fashion icon and grounded individual, Heidi is an incredible source of inspiration, which we think will really resonate with our customers. We are extremely excited about offering our most premium fashion range to date, and look forward to the first collection going on sale later this year."
Lidl doesn't sell fashion year-round, instead releasing collections at their 650 nationwide stores seasonally, so our money is on a September launch date. The Heidi Klum collection won't be available to buy online, so head to the Lidl website to find your nearest store.